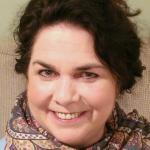 Jacquie is the First Vice President for the League of Women Voters of California. She has been a member of the League for over 26 years and has held several positions at the both the state and local level with more emphasis in voter service projects and League studies. At the state level, she served two terms as Treasurer and two terms as Voter Service Director. Locally, she has served as president, voter service vice president, Voter's Edge California and Voters Edge/Smart Voter coordinator for Fresno County since 1998, webmaster for Fresno League since 2002, and leader/facilitator for several studies. She is a proud member of the Fresno Education Committee who recently completed a study on charter schools.
Jacquie recently retired after 36 years from Fresno Unified serving as the Executive Officer of Fiscal Services. Fresno Unified is the fourth largest school district in the State and largest employer in the Central Valley. She was responsible for the fiscal operations including a budget that is over $1 billion dollars, accounting, and payroll. She has a passion to ensure fiscal resources are wisely spent, so that all students have the maximum opportunity to succeed.
Jacquie has a Bachelor of Science degree in Accounting, Quantitative Analysis and Decision Sciences from California State University, Fresno. She has been married over 36 years and has two grown children. In her spare time, she enjoys traveling and especially loves visiting nature's wonders.