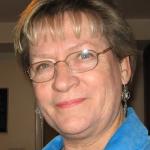 Jeanne is a Director of the League of Women Voters of California. Jeanne joined the LWV of San Diego in 2003 but wasn't very active until she retired in 2006. She began volunteering at the League and for Common Cause in 2005 to get a running jump on retirement. That opened up a whole new perspective on being an informed voter. She was hired by Common Cause in October 2006 on a part-time basis to be the San Diego organizer. That experience allowed her to see the world of NGOs from a professional viewpoint. She started on the board of LWVSD as VP of Administration, which helped her see the big picture of how the League works and how everything fits together. A few years later, she took on Program cochair and then Program director. She also is on the Membership and Public Policy committees in her local League.  
Beginning in 2014, she was cocoordinator for the LWVC Convention in San Diego in 2015. In addition, she is now on the LWVUS Committee on Money in Politics that keeps her quite busy but impressed with how national studies are conducted and with the background of many of our members.
Jeanne went to high school in Glendora, CA, but grew up in Ohio. She moved to San Diego in 1965 for college at SDSU. She graduated with a BS in Biology and minors in Math and Chemistry. She taught high school math and science in San Diego for 33 years, 30 of it at Morse High School; three at La Jolla High. She has been married for 45 years. She and her husband, Sandy, have four wonderful grown sons. In her "spare time" she loves to read, garden, quilt, and cook.