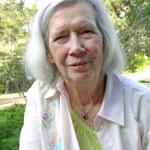 Joanne Leavitt has served as Vice President for Advocacy and Program since she was appointed to the LWVCEF Board of Directors in the summer of 2014 to fill the unexpired term of Helen Hutchison. Joanne joined the LWV of Santa Monica in 1984, was elected to that board two years later and has served on the board since then, filling almost every role except treasurer. She served as president twice, first in 1988 and again in 2010-13. She is currently communications director, monitoring Facebook and the Web site and producing a weekly news update.
Other League service includes several years on the Los Angeles County ILO board of directors, including president (2002-2004). She was cochair of the LWVC Juvenile Justice Study (1995-1999) and has served as a legislative consultant on prevention and early intervention issues since then. She was chair of the LWVC Education Update Study (2003-2005) and cochair of the LWVUS Education Study (2010-2012). Joanne has served as LWVC legislative consultant on early childhood education/universal preschool since 2005, and in 2014 was appointed to the position of LWVC Program Director for Early Childhood Education. She has been a member of the Working Party for Children since the mid-1990s.
Local volunteer activities include serving for over 30 years on the Virginia Avenue Park Advisory Board in Santa Monica, California. This activity culminated in 2014 with the dedication of a new branch library in the park, the first new library opened in Santa Monica in over 50 years. Joanne has been a member of the Santa Monica Child Care and Early Education Task Force since 1986 and continues to serve on the public policy committee there. Since 1994 she has been a member of the board of Community Corporation of Santa Monica, a nonprofit developer and operator of low income housing. She is currently serving her second term on the City of Santa Monica's Housing Commission. Joanne also served a two-year term as the elected president of the Santa Monica-Malibu PTA Council (1996-98).
In whatever spare time is available she enjoys puttering with plants on her patio, playing with her kitten, reading magazines for recipes she will never make, and keeping up with far-flung friends and family on Facebook.