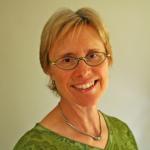 Lianne was first recruited by the Piedmont League to be Program Vice
President. She joined the League eight years ago, shortly after being
nominated. She has been on her local League's board almost every year
since, including a two-year term as President. Lianne is married and has
four children. She and her husband, Richard, live in Piedmont.
Her
work experience includes having been an assistant editor for a public
administration journal, a part-time lecturer for Cal State East Bay's
Department of Public Education, and a lecturer one summer at the
Ramkhamhaeng University in Bangkok, Thailand.
She currently works
part-time for the Ann Martin Center, a nonprofit serving at-risk
children in need of psychotherapy, educational therapy, and diagnostic
assessment.
Aside from the League, she has been a volunteer with
First Place for Youth, a program for former foster youth. She served on
their Board of Directors for six years.
She and her husband are in
the midst of establishing an organic olive orchard in Lake County,
where she is a member of the Farm Bureau and the local California Women
for Agriculture chapter. Lianne is also an avid hiker and tries to
accomplish at least one race-walking half marathon a year