Easy Voter Guides (EVGs) Available Online
We are proud to announce the June 2014 Easy Voter Guide is available online in English, Spanish, Chinese, Vietnamese, and Korean. Click here to download the guide from www.easyvoterguide.org.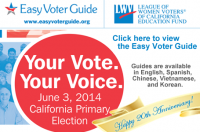 The EVG, a collaboration of the League of Women Voters of California Education Fund and the California State Library, has been providing new voters and busy voters with nonpartisan information for statewide elections in California for the past 20 years.
Questions?
Please call 916-442-7215
or email us using this form.