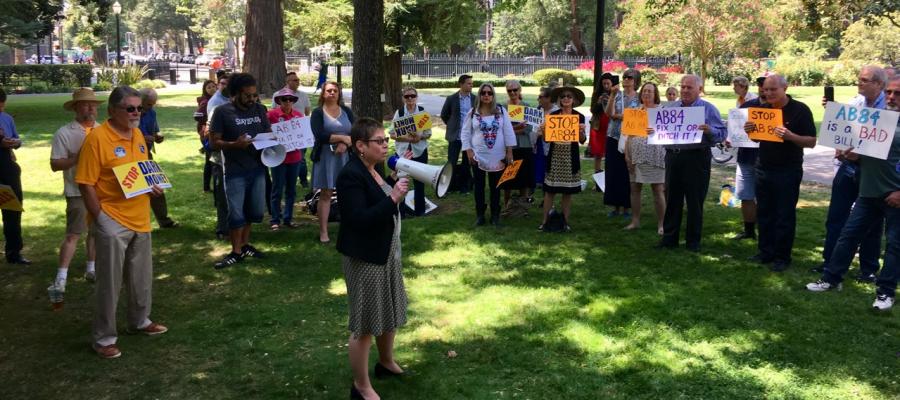 California continues its march to reduce greenhouse gas emissions. Each state legislative session brings several climate-related bills. Legislative sessions are two years in length, but each year, bills must be introduced or re-introduced (two-year bills).
2020 League Results
The 2020 legislative session was significantly curtailed by requirements of COVID-19. Further, the change in tax revenues and demand for unusual expenses changed California's needs and hence the dynamic of the legislative session. The bills listed below were those the League either supported or opposed. All of the bills are dead. We'll watch for similar bills in the next legislative session.
AB 345 (Muratsachi) SUPPORT "Natural resources: environmental justice: oil and gas: regulation of operations" Requires new regulations and the creation of an environmental justice program within California's Geologic Energy Management Division (Cal GEM). Letter of Support
 AB 409 (Limon) SUPPORT "Climate change: agriculture: grant program"  Would fund the development of planning tools to help farmers transition to more climate-sensitive and sustainable agricultural practices. Letter of Support
AB 479 (Nazarian and Kalra) SUPPORT "School meals: plant-based food and milk options" Makes plant-based food and beverages more available to students, with benefits to health and carbon emissions. Letter of Support
AB 975 (Calderon) SUPPORT "California Adaptation Leadership and Coordination Act of 2019" Sets up coordination at the level of governments to promote and support California goals and policies regarding oceans, coasts and terrestrial adaptation to climate change. It would leverage best practices, infrastructure, institutions and research. Letter of Support
AB 1080 (Gonzalez, Friedman, and Ting) and SB 54 (Allen) SUPPORT  "California Circular Economy and Plastic Pollution Reduction Act"  These two companion bills require that plastic single-use packaging and products sold or distributed in California be reduced or recycled by 75 percent by 2030. Coalition Letter of Support AB 1080, Coalition Letter of Support SB 54
AB 1567 (Aguiar-Curry and Mathis) SUPPORT "Organic Waste: Scoping Plan" requires an integrated scoping plan for reducing emissions associated with forestry, agriculture and urban organic waste, providing better coordination across all sectors. Letter of Support
AB 1941 (Gallagher) OPPOSE "California Renewables Portfolio Standard: hydroelectric and nuclear generation and suspension" would temporarily pause the state's renewable power mandates to provide funds to harden the grid. Although hardening the grid to reduce the risk and impacts of wildfires is imperative, loosening standards to mitigate climate change would slow our progress toward zero carbon. Letter Opposing
AB 3030 (Kalra) SUPPORT "Resource conservation: land and ocean conservation goals" sets a goal to conserve 30% of state lands and 30% of ocean by 2030. Emphasis on improving access for all and promoting carbon sequestration on state lands. Letter of Support
SB 43 (Allen) SUPPORT "Carbon Tax" Requires CARB to study the feasibility of assessing and assigning carbon intensity to retail products subject to the Sales and Use Tax Law. Letter of Support
SB 168 (Wieckowski) SUPPORT "Climate change: Chief Officer of Climate Adaptation and Resilience" Establishes the position of Chief Climate Resiliency Officer to serve as the statewide lead for planning and coordination of climate adaptation policy and implementation in California. Letter of Support
SB 1028 (Dodd) SUPPORT "Cannella Environmental Farming Act of 1995" Was SB 253 in the 2019 session. Provide incentives to farmers whose practices promote the well-being of ecosystems, air quality, and wildlife and their habitat. Letter of Support
SB 1052 (Hertzberg) SUPPORT "Water quality: municipal wastewater agencies" would authorize municipal wastewater agencies to enter into voluntary agreements to improve stormwater management and to treat stormwater as a local water resource. Letter of Support
SB 1323 (Skinner), SUPPORT "Carbon sequestration: state goals: natural and working lands: registry of projects" creates CO2 removal targets for natural and working lands as a step towards identifying the scope and scale of work needed to reach carbon neutrality. Letter of Support
2019 League Actions
Our League supported or followed a number of bills through the 2019 session. Some of these became law, and some have continued into the 2020 sessions as two-year bills. 
Passed and Signed into Law
AB 65 (Petrie-Norris) "Coastal protection: climate adaption: project prioritization" Requires the California State Coastal Conservancy to prioritize projects that use natural infrastructure to help coastal communities adapt to climate change. 
AB 293 (Garcia, Eduardo) "Greenhouse gases: offset protocols" More clearly defines offsets for enhanced agriculture, wetlands, and natural and working lands; allows consolidation of small operations. Fills gap left by earlier-enacted cap and trade policies not applied to these environments to lower GHGs. 
SB 19 (Dodd) "Water resources: stream gauges" Proposes a more comprehensive system of measuring how much water there is in streams and groundwater in California. Passed both houses, signed by Governor, chaptered (law) 9/27/2019.
SB 210 (Leyva) "Heavy-Duty Vehicle Inspection and Maintenance Program" Heavy duty vehicles smog requirements. Passed both houses, signed by Governor, chaptered (law) 9/20/2019.
SB 576 (Umberg) "State Coastal Conservancy: coastal climate change adaptation, infrastructure, and readiness program" Requires the State Coastal Conservancy to develop and implement a coastal climate change adaptation, infrastructure and readiness program to improve climate resiliency of the coastal communities, infrastructure, habitat and to host an international conference on climate change every two years. Focus of work and study is in the LA Basin area.
Visit the LWVC Legislation Page for a list of bills on all topics we are supporting or opposing.
2017-2018 League Actions
The Climate Change fight, led by our Climate Change Task Force and coalition partners, gained major ground in the 2017-2018 session.
In 2017, facing the looming 2020 expiration of cap and trade, advocates won a ten year extension through a 2/3 bipartisan vote on AB 398 (E. Garcia). Thanks to our Task Force and the broad coalition, Californians will enjoy improvements to air quality with the passage of AB 398 and its companion bill AB 617 (Gomez).
The passage of SB 100 (De León) was a victory, setting a goal to produce California's electricity using 100% zero carbon sources by 2045. Strong Task Force lobbying, its collaboration with a large coalition, personal lobbying of targeted legislators (all of whom voted yes), and League grassroots action all contributed to this historic environmental advance. Governor Brown's signing statement, while heralding the achievement, notes the work left to be done to "meet the existential threat of climate change" and the "miles to go before we achieve zero-carbon emissions."
Earlier League Actions
The state of California has taken meaningful steps to reduce greenhouse gas emissions, and the LWVC has supported many of these actions. The Renewables Portfolio Standard Program (AB 1078, 2002, and later amendments) required that renewables make up 20 percent of the state's electricity mix by 2010 and 33 percent by 2020. As of 2017, the state is on target to meet these goals.
The California Global Warming Solutions Act (AB 32, 2006) set as law that 2020 greenhouse gas emissions could not exceed 1990 levels. The Sustainable Communities and Climate Protection Act (SB 375, 2008) required regional GHG emission reduction targets for cars and light trucks, and coordinated land use, transportation, and housing decisions to help achieve the target. In 2011, based on the market mechanism provided in AB 32, Cap and Trade set a declining cap on allowed GHG emissions. Beginning in 2013 the largest carbon emitters were required to meet the caps or buy credits. In 2012 the Advanced Clean Cars Standard set GHG standards for cars and light trucks for model years 2017-2025. Governor Brown announced an Executive Order (B3015) on April 29, 2015, setting many of the targets that would be enacted in the 2015-2016 legislative session.
SB 350, the Clean Energy and Pollution Reducation Act of 2015, requires that 50 percent of our electricity come from renewable energy sources and a doubling of energy efficiency in buildings by 2030. A proposed requirement of a 50 percent reduction in petroleum use for transportation by 2030 was removed from the bill in order to obtain passage. The California Air Resources Board (CARB) has introduced a new element into the existing Low Carbon Fuel Standard (LCFS) program to address some of the petroleum reduction that was deleted from SB 350, under authority of the original AB 32.
SB 32 of 2016 extends the 2006 California Global Warming Solutions Act (AB 32) beyond 2020. It increases the goal for greenhouse gas emissions to 40 percent below the 1990 level by 2030. A companion 2016 bill, AB 197, directs the CARB to prioritize measures that result in direct reductions in emissions from major sources. It further establishes a Joint Legislative Committee on Climate Change Policies and adds two members of the legislature to CARB as nonvoting members. It also includes use of social costs in evaluating the cost-effectiveness of emission reduction measures to better account for the full array of costs and benefits associated with reducing greenhouse gas emissions.
Background
The League of Women Voters has been at the forefront of the environmental protection movement for decades, consistently supporting legislation to preserve our nation's natural resources and protect our public health and safety. We support legislation that seeks to protect our country from the physical, economic, and public health effects of climate change while also providing pathways to economic prosperity. Global climate change is the greatest environmental challenge of our generation.
The LWVUS, in response to the growing concern about climate change and its impact on the environment, created a Climate Change Task Force in 2006 to provide information and assistance to the national board and staff and to develop materials for use by League members at the local, state, and national levels. The task force developed and maintains a Toolkit for Climate Action.
Greenhouse gases are a pollutant. In a 5-4 decision in April 2007, the U.S. Supreme Court ruled that carbon dioxide and other greenhouse gases meet the definition of "air pollutants" under the Clean Air Act of 1970. California plays an important role in the climate change discussion, and what this state does is crucial. California produces seven percent of U.S. greenhouse gases (GHG) and is in 18th place in global emissions of GHG among countries (2013).
California is also playing a leadership role in reducing emissions, and regions within the state and local communities are taking steps to minimize the impacts of climate change by adoption of Climate Action Plans, Regional Climate Plans, and Sustainability Strategies, addressing sea level rise and creating Adaption and Resiliency (Readiness) Plans.
Along with national League positions, LWVC positions on Air Quality, Energy, Land Use, and Transportation and the Growth Management and Sustainable Communities Action Policies all work together to support action.