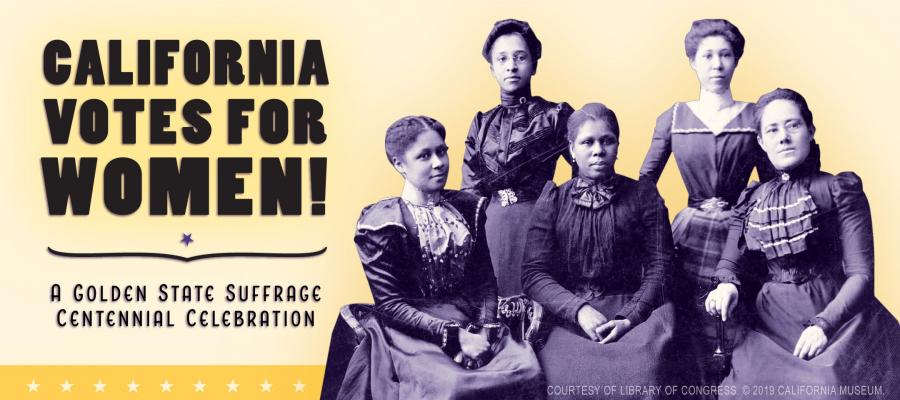 Event Date:
November 9, 2019 - 10:00 am
Celebrate the 100th anniversary of California's ratification of the 19th Amendment granting women the right to vote with California  First Partner Jennifer Siebel Newsom on Sat., Nov. 9, 2019 at the California Museum!
Festivities include:
• FREE or $5 reduced admission to view all current exhibits*
• US National Archives' "Rightfully Hers" pop-up exhibit & California State Archives' display on women's suffrage history
• Presentations by Ida B. Wells' great-granddaughter, author, speaker and educator Michelle Duster; historian Robert P. J. Cooney, Jr.; children's author Laura Atkins & the League of Women Voters of California
• Complimentary hands-on activities including a community quilt honoring African American suffragists led by Sisters Quilting Collective SQC, replica "Votes For Women" pennants & more
• Girl Power Story Time reading circle activity for kids ages 5 & up with the Sacramento Public Library
• Screening of restored suffragist silent film "Mothers of Men" (1917) shot on location in Northern California
• Suffragist living history reenactors from the Sacramento History Museum and Tours
• Information tables by the California Secretary of State Voter Registration, National Women's History Alliance, League of Women Voters of California & others
• Concessions for sale by Chocolate Fish Coffee, Drewski's & others
• $3 flat-rate parking in Bonderson Garage (Lot 24) at 1500 10th Street
• More fun for all ― don't miss it!
For tickets and more information, visit https://cavotes4women.eventbrite.com.