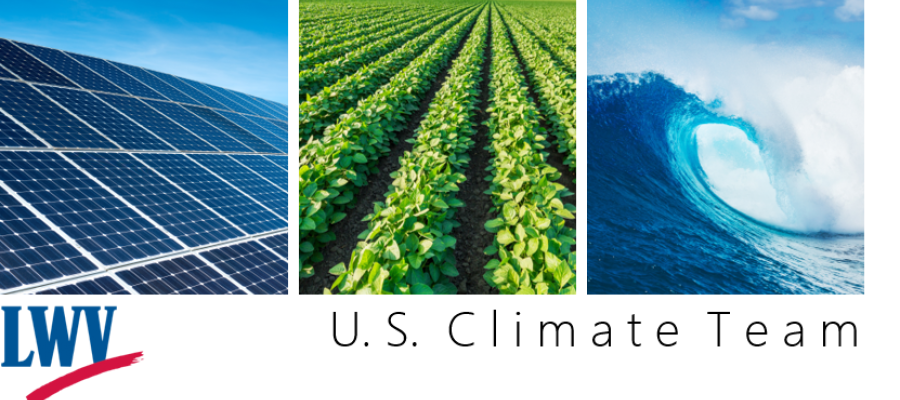 Heat records are being broken, glaciers are melting, and the seas are rising. We have reached a point where no matter what we do, we cannot avoid a very different climate future. We must act now to prevent truly catastrophic consequences. But what can we do? The most powerful action is our knowledgeable vote.
League of Women Voters U.S. CLIMATE TEAM
The League of Women Voters declared climate change a key priority at our 2020 Annual Convention. To advance League action on this urgent issue, we have formed a nationwide collaboration effort: the LWV U.S. Climate Team. We are a group of League members from across the United States working together to fight climate change. Together we inform each other, share information and strategies, are forming nationwide teams on subjects where there is interest, and analyzing federal legislation for maximum impact. All League members are welcome.
You Can Engage at Many Levels
You can become a leader, be a member of a smaller team focusing on one issue, be part of a Google Group to hear what folks are thinking, and many levels in between.
This website is where we will share information on the many aspects of our work, resources, and provide a place for knowledge on specific issues.
We will share information on actions and activities in emails, Zoom calls, and webinars, but those will be only occasional. To really follow our action, become a member of our Google Group where we can all share information on what folks are thinking and more transient information such as articles, news, and opinions. Our work will be guided by the latest science regarding best practices and most effective strategies for addressing climate change.
To join the Google Group click on this link and then click on "Join Group".
State Actions
The map on the right shows the level of climate efforts in each state as we know it now. About 900 League members from all but seven states have expressed interest in working on climate action.
States with climate webpages are shown below. Check out the links to learn some of the on-going actions. 
We have ten national subteams of League members from across the U.S., working on topics of mutual interest. We are educating, coordinating actions and sharing across Leagues. From oldest to newest, our current issue teams are:
Carbon Pricing
Food, Soils, and Agriculture
Wildfire
Climate Justice
Renewable Energy
Climate Action Plans
Transportation
Water
Health and Climate
Oceans
Learn more about our teams here and sign up to join here. To learn more about how to form a LWV team go here.
Congressional Legislation
We have formed a team to review Congressional legislation and other climate policies. For the national League to weigh in on climate issues, the issue or legislation needs to be broad enough to have a major effect and have a chance to pass. For example legislation to strengthen Renewable Portfolio Standards would be of the "right" size. Bills such as requiring increased efficiency on a specific type of vehicle is too small. We are now focusing legislation in the 117th Congress (2021-2023).
State Climate Legislation 
Climate Resources