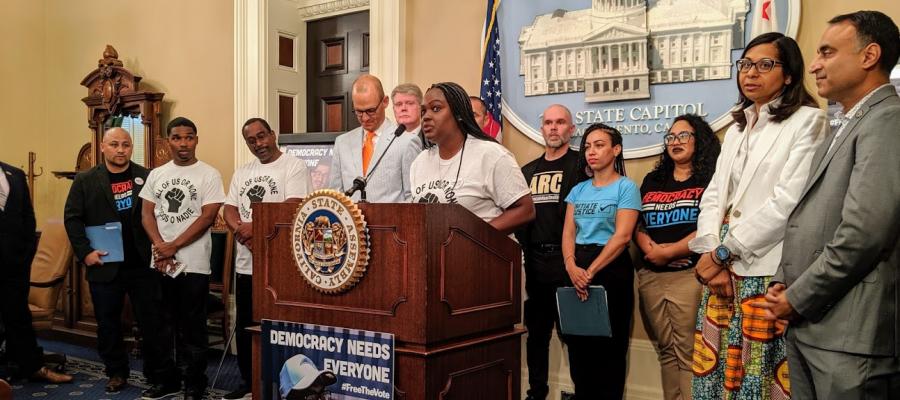 Sacramento, CA – Today California legislators joined the Free the Vote Coalition in calling on the Assembly to pass ACA 6, a constitutional amendment which will restore the right to vote for Californians on parole. On the heels of legislatures in Nevada and Colorado passing legislation restoring voting rights to people who have come home from prison, Assemblymembers Kevin McCarty (D-Sacramento), Sydney Kamlager-Dove (D-Los Angeles), Rob Stone (D-Monterey Bay), Ash Kalra (D-San Jose), Rob Bonta (D-Oakland), Senator Scott Wiener (D-San Francisco) and members of the Free The Vote coalition urged their colleagues to vote yes on ACA 6, which is expected to be brought up for a vote before the full Assembly in the coming days.
"The passage of ACA 6 would allow Californians on parole to fully participate in our shared democracy," said Sam Lewis, Executive Director of the Anti-Recidivism Coalition (ARC), "Doing so would move us closer to a reality in which all citizens of California can exercise their right to vote."
Currently in California, otherwise-eligible adults can vote while they are on most forms of community supervision – including probation, county Post-Release Community Supervision, and federal supervised release – but cannot vote while they are on state parole. ACA 6 will change that by placing a constitutional amendment on the 2020 ballot that would restore the right to vote for nearly 50,000 Californians on parole.
"Political power is the greatest currency in the U.S.," said Aminah Elster, Senior Staff Organizer and Family Unity Project Coordinator at Legal Services for Prisoners With Children, "You can't say that you are for the people if you continue to deny people the right to exercise their voice. You can't say you are for the people if you stand in the way of individuals on parole exercising their fundamental right to vote."
ACA 6, co-sponsored by California Secretary of State Alex Padilla, would address the history of racial oppression behind California's felony disenfranchisement laws. Three of every four men leaving California prisons are either African American, Latino, or Asian American. Black Americans are four times more likely to experience felony disenfranchisement than are white Americans. This constitutional amendment will roll back a form of voter suppression currently facing Californians of color and will signal to all Californians that their voices matter.
"In California, we are known for our progressive ideals but when it comes to restoring the right to vote for individuals who have served their time, we are behind the pack." said Assemblymember McCarty. "We have to fight for voting justice. And in order to fully integrate folks to our communities, we must restore their right to vote and participate in civic engagement and democracy."
An estimated 4.6 million people nationwide are unable to vote because of a felony conviction. Currently, just under 50,000 people on parole throughout California—working, paying taxes, raising families in their communities—are unable to vote in any local, state, or federal elections. California is behind eighteen other states and Washington, D.C, which either automatically restore voting rights upon release from prison or have no felony disenfranchisement whatsoever.
"There is precedent and national momentum for restoring voting rights to people on parole," said Taina Vargas-Edmond, Founder and Executive Director of Initiate Justice, "This year, Nevada and Colorado restored voting rights to approximately 87,000 people on parole. Last year, New York, Louisiana, and most notably, Florida collectively restored voting rights to almost 2 million formerly incarcerated people."
The disenfranchisement of Californians on parole is enshrined in the state's constitution. Thus, the restoration of voting rights to otherwise-eligible adults results only from an amendment to the California Constitution. ACA 6 needs a ⅔ majority in both state houses to pass.
"The League of Women Voters has been fighting for voting rights for one hundred years and the fight is far from over" said Dora Rose, Deputy Director of the League of Women Voters of California, "Restoring voting rights to people who used to be incarcerated, a disproportionate number of whom are Black or Brown, is the new face of the suffrage movement." 
About the Free the Vote Coalition
The Free the Vote Coalition is made up of ten organizations whose goal is to restore the right to vote for all people impacted by the criminal justice system. The partners in sponsoring this bill are Initiate Justice, ACLU of California, All of Us or None / Legal Services for Prisoners with Children (LSPC), Anti-Recidivism Coalition (ARC), Californians United for a Responsible Budget (CURB), League of Women Voters of California, People Over Profits San Diego, Vote Allies, and White People for Black Lives (WP4BL). California Secretary of State Alex Padilla is also a co-sponsor of ACA 6.
###
FOR IMMEDIATE RELEASE
August 14, 2019
Contact:
Nicholas Reiner, Anti-Recidivism Coalition (ARC)
(562) 243-0656
nreiner @ arc-ca.org