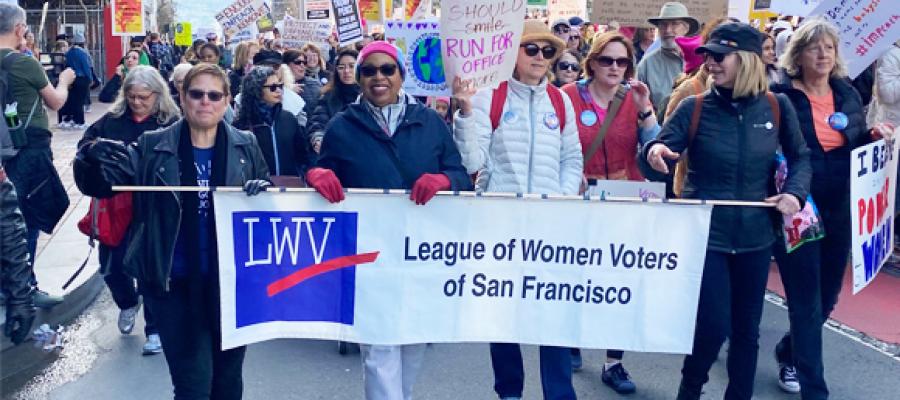 I joined the League of Women Voters of California as Executive Director in November of last year.  I came to the League for many reasons.  Our foremothers were beaten, jailed, and tortured in their movement to give women the right to vote, to be enfranchised in shaping the laws and policies governing our lives.  They did not back down. They did not shy away.  They stood in the fire and forged the future. They had a lot of work to do.
I came to the League because I wanted my work to matter.  I wanted to wake up every day knowing that the work I do is building a more equitable future in California.  Reflecting on our society today, it is more important than ever that we double down on the fight for equity. That we double down on ensuring that people have the right, the knowledge, and the confidence to participate in our democracy.  

Because on our 100th birthday, and the Centennial anniversary of the 19th Amendment – the work is not done.  It took 100 years from winning the right to vote to having enough states ratify the Equal Rights Amendment, and Congress must still take action before it is added to the Constitution.  It is not a foregone conclusion – we have work to do. 

For more than 100  years, communities of color have fought for basic human rights, human dignity, and to undo systemic racism.  On our 100th birthday, we look back to the roots of our movement, and where it fell short in fully supporting equal rights for these communities. We learn from the past and stand now and into the future fighting for equity for all people. Our fights against voter suppression, gerrymandering, inequitable policies and systems, and to raise and center the voices of those who need to be heard are more critical than ever. We have work to do.
We stand on the shoulders of giants as we look ahead to the next 100 years.  We are the foremothers of the next generation.  How will they look back upon us?  We need your help to create a more equitable future – I am asking you to consider a generous contribution in honor of 100 years of work done – and 100 years more to do.  For our 100th anniversary, we are looking for 100 people to become monthly donors at $100 each.  Your donation will continue the work started by those who came before us and will build a more equitable world for those who will come after us.
The fire that started with our founders 100 years ago is still burning bright.  We still have work to do.  I am proud to stand strongly with you as we collectively continue the fight to defend democracy and empower voters.
In solidarity,
Executive Director
League of Women Voters of California
LWVC President Caroll Moon Goldberg and LWVC ED Stephanie Doute at the Women's March Sacramento Jan 2020