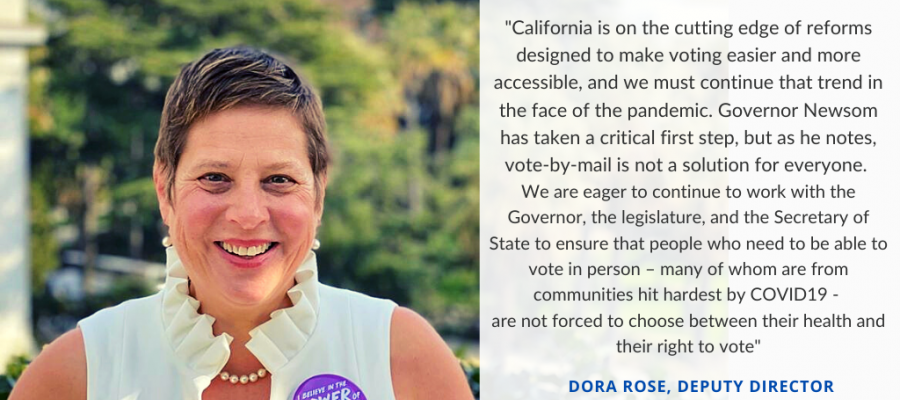 Voting rights advocates applaud the Executive Order released today by Governor Gavin Newsom, which mandates that all registered voters in California will receive a ballot by mail, as a necessary first step to ensuring a successful November 2020 election. 

Asian Americans Advancing Justice - California, California Common Cause, Disability Rights California, the League of Women Voters of California, Mi Familia Vota, and the National Association of Latino Elected and Appointed Officials (NALEO) Educational Fund join Governor Newsom's call for the legislature to enact robust in-person voting location requirements for the fall. Ensuring that all California voters have sufficient opportunities to receive critical in-person voting services, regardless of the county they live in, is essential in this election.

The organizations have been working with the California Secretary of State, county elections officials, and other experts to devise guidelines for the November 2020 election that will ensure all voters can access a safe and accessible vote. Last month, advocates wrote a letter to Governor Newsom and the Secretary of State with specific recommendations for the November 2020 elections.

Those recommendations included sending every registered voter a ballot by mail, as well as:

(1) the establishment of in-person voting locations at a mandatory minimum ratio;
(2) a statewide early vote period;
(3) the expansion of remote accessible vote-by-mail as well as additional protections for voters, including offering opportunities to request translated ballots, extending the voter registration deadline, extending the deadline to request a replacement ballot, and extending the date that counties can accept returned vote-by-mail ballots;
(4) the establishment of ballot drop boxes at a minimum ratio of one for every 15,000 registered voters;
(5) meaningful opportunities for the public to comment on and shape their county's election administration plan; and
(6) sufficient resources for counties and community-based organizations to educate and engage voters on how to cast a ballot in the November elections.

We call on the Governor and the State Legislature to work together and take swift action to adopt the above remaining provisions and to appropriate the necessary funds to implement them, so county elections officials can make the plans needed to serve voters this fall. 

The organizations issue the following statements in response to Governor Newsom's Executive Order:

Dora Rose, Deputy Director of the League of Women Voters of California, says:
"California is on the cutting edge of reforms designed to make voting easier and more accessible, and we must continue that trend in the face of the pandemic. Governor Newsom has taken a critical first step, but as he notes, vote-by-mail is not a solution for everyone. We are eager to continue to work with the Governor, the legislature, and Secretary of State Padilla to ensure that people who need to be able to vote in person – many of whom are from communities hit hardest by COVID-19 - are not forced to choose between their health and their right to vote."

Samuel Molina, California state director of Mi Familia Vota, says:
"Providing every registered voter in California with a vote-by-mail ballot is a step in the right direction. However, we must ensure that those that need language assistance and those with disabilities still have access to in-person voting sites so that they are not left out of the election and that their vote is counted; we run the risk of disenfranchising millions of voters by not having in person voting sites."

Rosalind Gold, chief public policy officer for National Association of Latino Elected and Appointed Officials (NALEO) Educational Fund, says:
"NALEO Educational Fund commends Governor Newsom's leadership for issuing this critical Executive Order and acknowledging the importance of maintaining safe, in-person voting options for Californians. In-person voting is particularly crucial to provide Latino voters who face challenges with receiving or completing a vote-by-mail ballot an opportunity to obtain the language assistance they need.  Research also shows that Latinos are less likely to use vote-by-mail ballots than other California population groups.  While we recognize that the state faces serious fiscal challenges, we believe that investment in a robust statewide public education effort will ultimately pay off in cost-savings from less voter confusion on Election Day – and a stronger democracy where every eligible voter is fully knowledgeable about the options for voting in Election 2020." 

Julia Marks, voting rights attorney at Asian Americans Advancing Justice - Asian Law Caucus, says:
"Governor Newsom's order is an important first step to ensuring safe and equitable access to the ballot for Californian voters. We look forward to working with the Governor, the legislature, and Secretary of State Padilla to expand plans and requirements for the November election. Limited-English proficient voters are a prime example of those who need access to in-person voting sites in order to be adequately supported. We must work together to combine a robust voter outreach and education program, with the availability of bilingual poll workers and other on-site language resources, to make sure these voters do not fall through the cracks."
Fred Nisen, supervising attorney for voting rights, Disability Rights California, says:
"We appreciate Governor Newsom's acknowledgement that some voters with disabilities need to vote in-person. In-person voting is important for people with disabilities who need to use an accessible voting machine or otherwise have difficulty with vote-by-mail ballots. We fully support setting a minimum amount of required voting locations, but all voting locations for November should be physically accessible and meet the Secretary of State's Polling Place Accessibility Checklist. Currently, state law allows the limited use of inaccessible polling places in some circumstances. If there are fewer in-person voting locations, a voter with a disability may have to go a long distance to find a voting location they can access."

Jonathan Stein, executive director of California Common Cause, says:
"Today's executive order will ensure that every California voter has the option to vote from home in November, which is critically important. But we must do more. We will work with the Governor and the legislature to ensure safe, accessible voting sites and ballot drop boxes. To run a successful election in a crisis environment, we need to give voters as many safe options as possible."


# # #