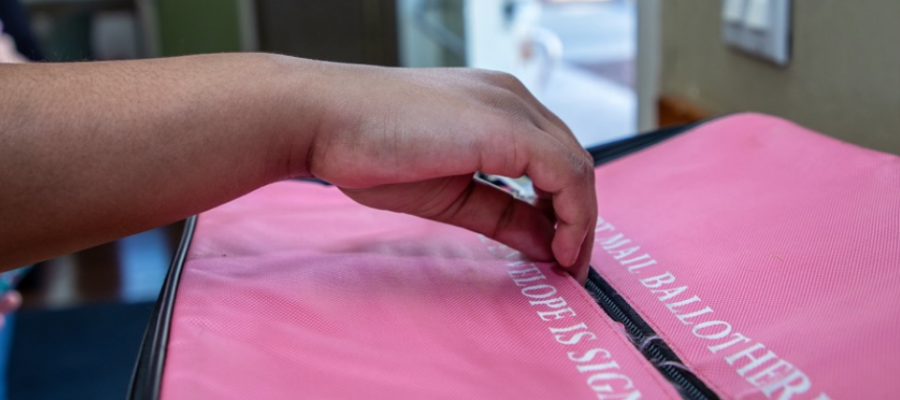 The League of Women Voters of California has fought for voting rights and to remove barriers to civic participation for 100 years. The challenges presented by the coronavirus pandemic are unique but not insurmountable. For the last few weeks the League has been collaborating daily with the Secretary of State's office, elections officials, and other good government and civil rights groups to develop plans that will ensure California voters are able to make their voices heard, safely and equitably, in November's election. 
The League, in coalition with a number of other organizations,* is advocating for a set of recommendations to achieve a successful presidential election. We believe that all registered California voters should be provided a vote-by-mail ballot. However, despite its importance as a vehicle to address the pandemic, vote-by-mail is not a solution for everyone. Many communities are unfamiliar with the vote-by-mail process and many people need in-person options for a variety of reasons -- including getting assistance, registering and voting on the same day, and being able to cast a ballot with confidence in the manner that the voter is accustomed.   
The League is particularly mindful that voting by mail holds the potential to disenfranchise communities of color, youth, language minorities, people with disabilities, people with low income, and those who are unhoused, housing insecure or geographically mobile. Changes to our voting process must be done in ways that will protect voters who are already underrepresented in our democratic system.
"Advocates, counties, and the state government are all working diligently to determine the changes necessary for the November elections and to begin implementing those modifications." said Stephanie Doute, Executive Director of the League of Women Voters of California. "Our recommendations are geared toward maintaining the integrity of our democracy, fostering the voting rights of historically underrepresented communities, and designing a safe, healthy election for all eligible Californians."
In addition to maintaining robust in-person options while simultaneously sending every registered voter a ballot, we are advocating for: maximized use of ballot drop boxes to expand voting opportunities and reduce lines at in-person locations; transparency and solicitation of public comment on election changes to ensure that community voices are factored into each county's planning; and the allocation of significant resources for public education and engagement, with a focus on communities that do not traditionally vote by mail.
*Our coalition of advocates include the American Civil Liberties Union of California, Asian Americans Advancing Justice - Asian Law Caucus, Asian Americans Advancing Justice - LA, California Common Cause, Disability Rights California, League of Women Voters of California, Mi Familia Vota, National Association of Latino Elected and Appointed Officials (NALEO) Educational Fund, NextGen, and Voting Rights Lab.
ABOUT THE LEAGUE OF WOMEN VOTERS OF CALIFORNIA:
The League of Women Voters, a nonpartisan political organization, encourages informed and active participation in government, works to increase understanding of major public policy issues, and influences public policy through education and advocacy. Membership in the League is open to men and women of all ages. With 100 years of experience, the League is one of America's most trusted grassroots organizations.
Want to help us do more work like this?
PHOTO CREDIT: Joan Cusick Photography