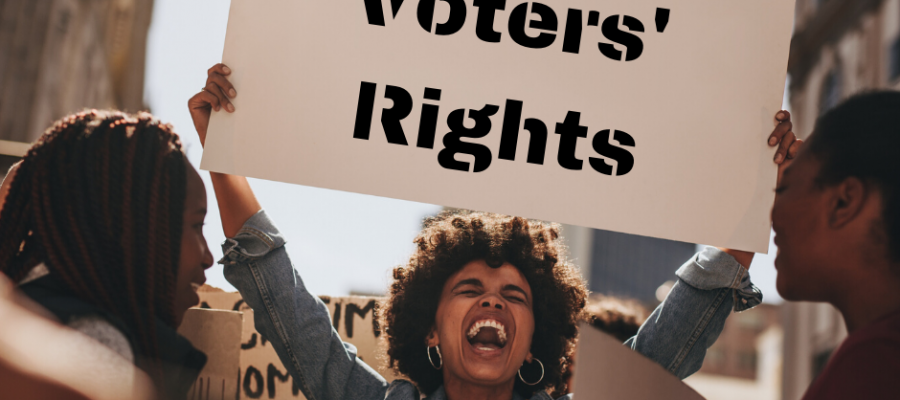 When we see efforts to suppress votes, we act. When we see attempts to narrow voting options during this pandemic, we act. When we hear false claims that California's secure elections process is compromised, we act. You can act.
We cannot allow partisan lawsuits to risk disenfranchising California's voters. Voting is not a partisan issue - it is a fundamental right. At one of the arguably most critical times in recent history, and in the middle of a deadly global pandemic, every voter must have the opportunity to cast a safe, secure ballot.

That's why the League of Women Voters of California, along with other voting rights advocates, have filed motions to intervene in two lawsuits which both seek to prevent mail-in ballots from being automatically sent to all registered California voters for the November general election and attempt to cast California's vote by mail as rampant with fraud.
Not on our watch.
"Right now, voters--especially those in high-risk categories--are weighing how to keep themselves safe while they exercise their right to vote. These same voters are the one who traditionally struggle with fair ballot access. We cannot allow political games to drown out the voter's perspective. Voters must be the priority as we head into another important election." - Stephanie Doute, Executive Director of the League of Women Voters of California
And not on your watch! By contributing to the League of Women Voters of California, you make sure political games do not disenfranchise voters. Whether you can contribute $10, $100, or more - your donation works to guarantee safe, accessible elections for all Californians.

We are protecting voters in the courts. We are protecting voters in the legislature, by working and advocating on bills to protect broad vote by mail and in-person voting access. We are protecting voters with the Governor's office and Secretary of State, offering data informed recommendations on how to hold an election in the COVID era to enfanchise all of California's diverse voters. Your donation today allows us to continue to protect California's voters on all fronts.

Thank you for being a part of the crucial work to protect voters rights.

In solidarity,
Stephanie Doute, CAE
Executive Director
League of Women Voters of California

PS - As you know, defending democracy is bigger than just voting rights! (As if that's not big enough!) We also took legal action on threats to California's public redistricting process. We cannot allow delays in the census caused by COVID-19 to jeopardize California's transparent process for creating well considered, fairly drawn maps. The League filed an amicus brief to extend the redistricting deadline. You can act and help defend democracy, today.