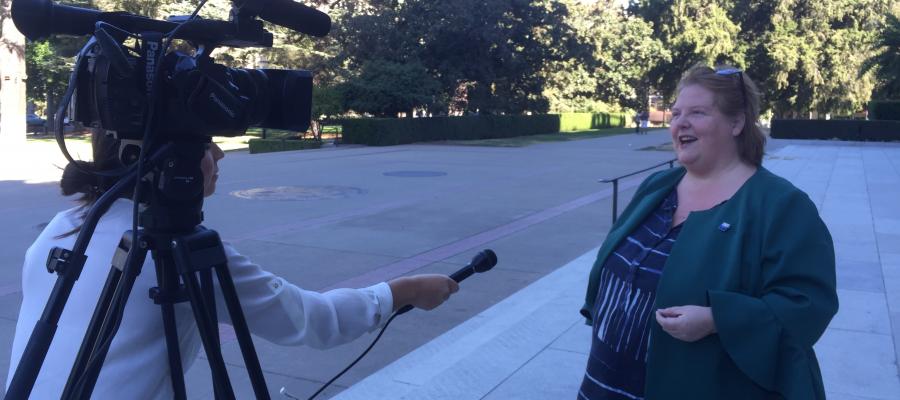 SACRAMENTO (KRON) - A measure on the ballot would boost funding for California children's hospitals, but not everyone agrees with how the money would be distributed.
Proposition 4 would authorize $1.5 billion in bonds to fund grants for construction, renovation, expansion, and other upgrades to children's hospitals.
"The purpose of the infrastructure improvements is to make sure we can meet increased demands for our services and also because we face new seismic standards," said Ann-Louise Kuhns, who is the CEO of California Children's Hospital Association. "We need to make sure our buildings are not only standing after an earthquake but that they're standing after a major earthquake."
Seventy-two percent of the funds would go to eight private, non-profit children's hospitals across the state, including two in the Bay Area.
Eighteen percent would go toward children's hospitals in the University of California system and the rest would be distributed to 150 other pediatric care facilities.
Members of the League of Women Voters say they support children's hospitals but they oppose Prop 4, taking issue with most of the money going toward private facilities.

"The reality is each of these eight private hospitals each put in about $680,000," California League of Women Voters Executive Director Melissa Breach said. "If this measure passes, they'll each get $198 for every dollar they invested. That is pay to play, and that is not how we want to fund things in California."
But the Children's Hospital Association says the money is divided in the measure based on patient volumes.
"It's not so much an issue of whether the hospitals are not for profit or public, but who are the patients being seen in those hospitals, and two-thirds of the patients we see are publicly financed by medical," Kuhns said. "The problem is it doesn't reimburse for infrastructure. That's why we periodically come back to the voters to say can you please help us with just a portion of infrastructure."
If passed, supporters say children's hospitals would start to see upgrades within the next year or two.