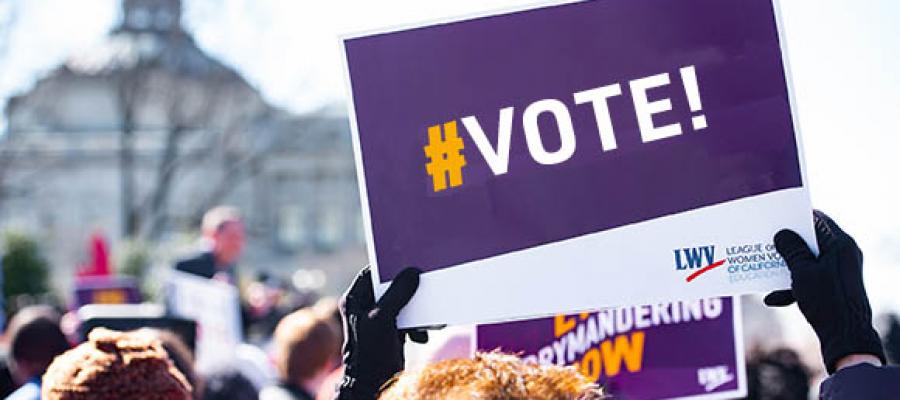 The last few weeks have been a test of our resolve and our ability to adapt, as individuals, as a society, and as an organization. 
Here at the League, we have been working to address voting changes in our state and in our nation.
Appalling voter suppression stories from Wisconsin earlier this month keep us fighting to make sure our elections are safe and accessible to all. 

We promise to protect the voting rights of California voters come November. We took our first step last week with a detailed letter to Governor Gavin Newsom and. Secretary of State Alex Padilla, offering recommendations to ensure California voters can make their voices heard, safely and equitably, in November's election. We continue to collaborate with other good government and civil rights groups, counties, and the state government to fine-tune our recommendations.  These challenges cannot wait. The countdown to the election ticks and we have little time to make changes and provide robust public education.
Changes to our voting process must be done in ways that will protect voters who are already underrepresented in our democratic system. We need to prepare and be ready to help educate our communities about these changes as they happen. Please make a gift today to the League of Women Voters Education Fund. Double your impact now to protect voting rights by making a gift today, as generous donors have stepped forward to provide $20,000 in matching funds.  Whatever you give today will be matched.

Where California goes other states follow, and the steps we take today, and every day until the November Election can help safeguard and promote voting rights in our local communities and across our nation. No one should be denied their constitutional right to vote, but if we are not proactive that will happen. Barriers to voting disparately impact vulnerable communities, undermining the diversity of our state and our representative democracy. You and I both know that a person's right to vote is an essential part of a healthy democracy. We need to take action right now. Here are four good reasons:
Getting a vote-by-mail ballot to every registered voter will be key to success in November's election, but it's not a solution for everyone. Many voters who need assistance or are unfamiliar with the process will require access to in-person voting locations.
In-person voting options must be sufficiently available to avoid overcrowding and long lines.
We need to protect poll workers and voters to make sure they stay safe and healthy.
Large investments in voter education are essential to guarantee that every Californian knows about the changes and how to cast a ballot that will be counted.
People are using this pandemic as an excuse to suppress voting rights. Together, we will protect Californians' right to vote and show other states how to get the job done. Let's get this done together, please make a gift today and don't forget, whatever you can give today will be matched to double your impact.
We remain focused on maintaining the integrity of our democracy, fostering the voting rights of historically underrepresented communities, and designing a safe, healthy election for all eligible Californians. We will continue to help empower voters and defend democracy, even in the face of adversity.