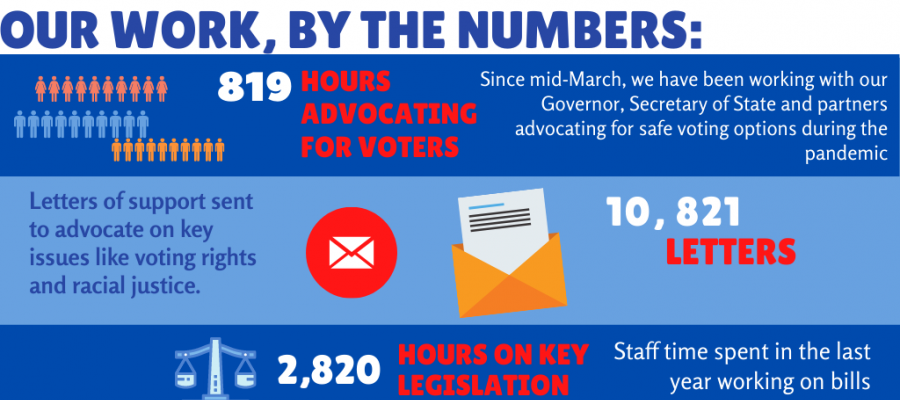 We are halfway through our Centennial year.  And wow, has it been different from what any of us could have ever imagined.  A global health crisis, economic uncertainty, and a deeply needed national reckoning with racism were certainly not the ways we thought we would be spending our Centennial, yet here we are.  There's something fitting in the fact that 100 years after women were marching in the streets to demand their rights, we are back in the streets again.  This time to demand an end to systemic racism, violence against black lives, and for full human rights and dignity for all people.  It should not have taken 100 years.  But as we celebrate 100 years of votes for women, we demand the next 100 years respect the human rights and lives of all people.
Through it all this year, we have accomplished a lot.  In the past year, we have worked hard together to create a more equitable California, and we wanted to take some time to give you an update on some of the legislative work we have done over the past 12 months, as we are now ramping up for the November election.  Bear with us, this is a longer email than usual, but it's important.  There are victories worth celebrating that you've helped make possible and critical work still ahead.
Together we supported AB 860, an emergency bill to automatically send a vote-by-mail ballot to every registered voter in the state.  We simultaneously took legal action to intervene in vote-by-mail related court cases to ensure we were protecting voters on all fronts.  During this pandemic, it is important to have vote-by-mail ballots to ensure safe and accessible voting options.
Thanks to your efforts over the last year and a half, Californians will vote on important measures in November.
Free the Vote Act, Proposition 17 (ACA 6) – The League co-sponsored and signed the ballot arguments to restore voting rights to more than 50,000 Californians on parole, a disproportionate number of whom are Black or Brown.
Schools & Communities First, Proposition 15 – Leaguers across the state stepped up to gather a record-breaking amount of signatures. We are closer than ever to restoring $12 BILLION for schools and local services.
Opportunity for All, Proposition 16 (ACA 5) – The League signed the ballot arguments to reestablish equal opportunity programs in California and help level the playing field in public higher education, employment, and contracting.
Voting Age, Proposition 18 (ACA 4) – Allows 17-year-olds to vote if they will turn 18 by the general election.
End Money Bail, Proposition 25 – Eradicates the cash bail system, which disproportionately impacts Black and Brown Californians and often causes people who have not been convicted of any crime to spend long periods in county jail and lose jobs, housing, and even their children.
These successes could not have been accomplished without your support. But there is more work to be done. You can make an impact by donating to the work we are still doing to protect voting rights, redistricting, and racial justice.
What's Ahead?
COVID-19 and the budget deficit has rocked California's legislature and derailed many bills. Despite that, we're working to pass SB 423 to ensure that voters who want or need to vote in person on November 3 have safe and convenient voting options. Without safe in-person options, many voters could be excluded from the elections process. We may call on you to act on this bill in the future - stay tuned!
We're also supporting reforms to California's redistricting process that will promote fair and effective representation ahead of the 2020 census redistricting cycle. Last month the League sent an amicus letter supporting deadline extensions for new district maps. On July 17th the California Supreme Court granted an extension for the redistricting deadlines which were impacted by the Census data delays caused by COVID-19. The League is also working to pass AB 1276 which clarifies existing law around redistricting commissions in charter cities.
The League is co-sponsoring The California Racial Justice Act, AB 2542, which would prohibit racial discrimination in convictions and sentences and make it possible for a person charged or convicted of a crime to challenge racial bias in their case. The California Racial Justice Act will take a profound step towards establishing a clear prohibition on the use of race, ethnicity or national origin in seeking convictions or sentences.
Your donations help propel this work and we have so much more to do as one of the most important elections of many of our lifetimes approaches.  Our work in defending democracy is more important than ever.  
Please consider giving as generous a contribution as possible so that, together, we can keep doing the necessary work to ensure a safe November election and advancing policy to build a more equitable California. 
Together we are making a difference.
In solidarity,

Stephanie
Stephanie Doute, CAE
Executive Director
League of Women Voters of California