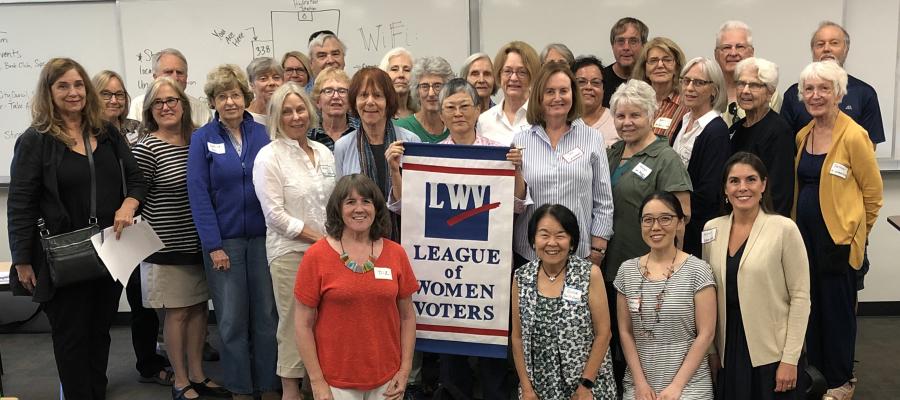 Members from fourteen local LWVs met in Sacramento on September 14 to learn what actions are happening across the state, and to share what local Leagues are doing on climate change.
Reports from Local Leagues
Alameda - main focus on sea level rise, planning forums on sea level rise and climate action
Berkeley-Albany-Emeryville - working on electrification, brochures, electrification fairs, working with the City
Eden Area - not active yet, but beginning
Fresno - focus is community education, and holding City and County accountable to Climate Action Plans 
Marin County - working with City and County toward state legislation limiting development in areas threatened by sea level rise
Nevada County - working with other groups on wildfire and water, planning an event for Earth Day
Palo Alto - working on electrification, Food, Soils and Agriculture, zero waste, and education. just beginning work on sea level rise
Placer County - collaborating with County and State to mitigate forest fires, speakers bureaus
Sacramento - working toward Climate Emergency Declaration for Sacramento city and county and to commit to zero fossil fuels by 2030
San Francisco - working on transportation, electrification, and making public transportation more acceptable
San Joaquin County - working in cooperation with groups in community for Restore the Delta, education, Healthy Neighborhoods Coalition, Climate Emergency Declaration
San Jose/Santa Clara - LWV very involved in Climate Smart San Jose (CAP), San Jose Clean Energy (CCA), green infrastructure for stormwater, education, and protecting Coyote Valley from urban development
Sonoma County - supporting carbon pricing
SW Santa Clara Valley - working to get sign on to Mayors' climate change pledge, main focus is threats to water, (climate change, agriculture, population, industry, and aquifer issues
Areas for Action
We heard about climate change state-wide teams already formed or forming, and agreed that those were areas of interest for the NorCal attendees. We met in breakout groups to discuss potential actions in five areas:
The Food, Soils, and Ag team is working to turn individual actions into larger, community actions, linking to public officials and local organizations. The team is bringing resources together to educate through tours and forums, including farmers as key contributors.
As we continue to reduce greenhouse gases, we need to move away from natural gas to all electric for both buildings and transportation. The Building Electrification team is encouraging city governments to hold electrification fairs, educating on heat pumps and other advantages of moving to electric.
Educating the public, particularly voters, in the basics of climate change, local impacts, and solutions is a critical element of breaking down political polarization on the topic. We're also educating candidates and showing them their constituents' interest in climate change through legislative interviews and direct conversation.
The Wildfire Team is reporting and sharing best practices across the state. Because fire agencies frequently cross jurisdictions with fragmented responses, the team is working to hold accountable all responsible, including how money is spent.
As the sea level rises, we can no longer turn our backs on development in areas that will flood. But development brings tax dollars, so to act we need state legislation. Specifically, a base map based on science that all must adhere to, and a method to require that insurers, lenders, and buyers be informed of the risk.
Resources from the Forum
LWVC Climate Change Action Policy
Climate Change Task Force - who we are, what we're working on, support information for getting started
Climate Change Legislation - legislation related to climate change and LWVC positions