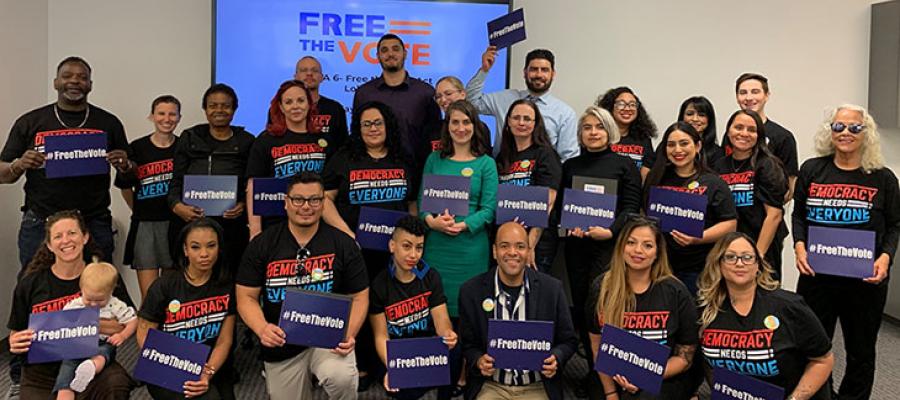 We say your vote is your voice. Yet in California we block access to the voting booth and silence the voices of people who are on parole -  a disproportionate number of whom are Black and Brown. As we confront systemic inequality and demand justice for Black lives, it is more important than ever to Free the Vote with ACA 6 and restore voting rights to people on parole. Join us and act now and tell your state senator to vote YES on ACA 6. ACT NOW!
Denying voting rights to people on parole is a legacy of Jim Crow laws designed to lock Black and Brown Californians out of the voting booth. This constitutional amendment will restore voting rights to nearly 50,000 people who are working, paying taxes, and raising children in our communities, but have been deprived of a voice in the policies that shape their lives.
We support ACA 6 because we know that:
Our democracy is rooted in the idea that everyone's voice matters. In particular, as we fight back against structural racism in policing, we urgently need to hear the voices of those most directly impacted.
Parole's purpose is to help people reintegrate into their community. Civic engagement is a critical part of that process, and can reduce recidivism.
California needs to catch up with 19 other states and Washington, D.C, which either automatically restore voting rights on release from prison or have no felony disenfranchisement whatsoever.
Now more than ever we must confront the history of racial oppression behind our state's felony disenfranchisement laws. The Free the Vote Act will roll back a form of voter suppression currently facing Black and Brown Californians and will signal to all Californians that their voices matter. Take Action: Tell your senator to vote YES on ACA 6.
Want to get inolved?
Join us Wednesday, 6/10, from 6:30-8:30pm - for a webinar, hosted by Initiate Justice, on the ACA 6 campaign and why people on parole deserve to vote. RSVP here.
Help us do more work like this