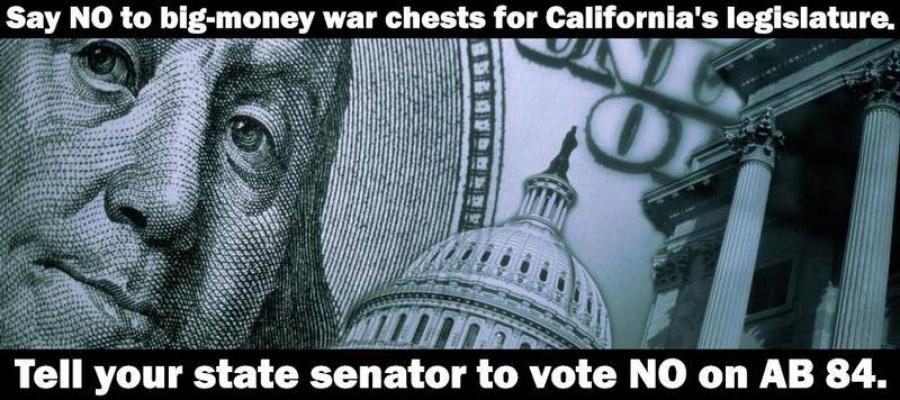 More money flooding our elections is the last thing California needs. Despite that, legislators are fast-tracking a bill that gives their own caucus leaders a war chest to use in unlimited amounts on preferred state candidates. Act now and urge your state senator to vote NO on AB 84.
AB 84 will consolidate money and influence among legislative leadership and undermine California's fair and competitive elections. Act now and urge your state senator to vote NO on AB 84.
Right now the four individual Democratic and Republican caucus leaders are limited to receiving up to $4,400 per year, per contributor. This bill would allow them to accept up to $36,500 per year, per contributor, on behalf of their caucus.
    Leadership could dole out unlimited cash to state candidates from these new coffers - potentially favoring incumbents and allies.
    Your legislators will be incentivized to fall into line with party leadership, even at the expense of constituents' interests.
    The public's trust in government will be damaged when big-money, special interests are given even more influence over California's law and policy.
In a democracy, the voters select their representatives. AB 84 shifts that dynamic - giving California's legislative leadership, and incumbents in office, more power to select their own colleagues. Read more about our coalition work in our recent press release.
Urge your senator to vote NO on AB 84. Please act right away! The Senate Elections Committee is holding a hearing on AB 84 this coming Tuesday, August 14.
Sincerely,
Helen