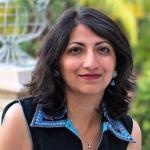 Email Address:
APirachaZakariya

[at]

lwvc.org
Aisha Piracha-Zakariya is a Direcotr for the League of Women Voters of California. Aisha is currently President of the Palo Alto League. She joined their board as First Vice President in 2016 and continues to serve on the communications, advocacy and board development teams. Through her leadership, and her board's support, she focused on increasing outreach, community engagement and visibility of the League, as well as streamlining onboarding and internal efficiencies for new board members. She has also promoted innovative voter service programs to register youth, and developed creative GOTV strategies using Voter's Edge media materials which were also shared with California Leagues. Her efforts to increase outreach to new communities included expanding locations for election events and collaborating with new interest groups on common policy issues. More recently, her local League and colleagues from the Leagues of Women Voters of Santa Clara County successfully advocated for the adoption of the Voter's Choice Act, and is now slated for implementation in the county's the 2020 elections!
Professionally, Aisha has over two decades of experience in both the private and nonprofit sectors and is currently a digital marketing and communications strategy consultant. Previously, Aisha worked in New York City's financial sector at JP Morgan as well as Donaldson, Lufkin & Jenrette, before founding her startup, Allergy Exchange. Through her nonprofit advisory involvement, she has also worked to level the playing field for under-served communities. She has worked to promote women's empowerment with Behbud, a women's advocacy organization in her country of origin, Pakistan. Locally, Aisha served as Trustee and Board Chair at the Gunn High School Scholarship Foundation in Palo Alto, which provides needs-based college scholarships to students in her community.
Aisha holds a BA from Smith College in Development Economics & Government. She grew up in Laos, Thailand and the Philippines, as her father's work at UNICEF took her around the world, before attending high school in Greenwich, Connecticut. She is a polyglot and speaks Thai, French and Urdu. Aisha has been living in Palo Alto with her husband, daughter and son since 2005. Aisha's work with the League has instilled in her an immense sense of duty and commitment to ensure that the League's mission to educate and advocate voters continues into the next 100 years.