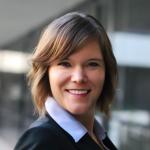 Amanda Berg is a Director of the League of Women Voters of California, and has worked with LWV San Diego since October 2014. She became Director of Voter Service for LWVSD in January 2015 and has been working ever since to encourage voter participation, education, and civil political discourse.
Amanda spearheaded a series of local League events titled "Sips & Civility." These quarterly events are targeted towards a young professional audience and offer free drinks and civil political discussion. Amanda presented the Sips & Civility model at the 2015 LWVC Convention workshop "Democracy in Dialogue" alongside LWVSD members Jeanne Brown and Nancy Phung. Since then, the event has grown in size, with the 2016 election event boasting 125 attendees.
In 2015-2016 Amanda also co-chaired a committee for a local League study on "Campus Justice & Sexual Assault." This study led to LWVSD adopting a new position regarding how local campuses should handle sexual assault claims, education, and reporting.
Amanda was born in Wisconsin and moved to Southern California when she was 11 years old. She holds a B.A. in Political Science from UCLA and an M.A. in Political Science from UCSD. In her professional life, Amanda is an Implementation Specialist at a medical software company. Amanda lives in San Diego with her boyfriend, Alex, who is also an active League member. In her free time outside of LWV, Amanda enjoys running half marathons and working on her side photography business.