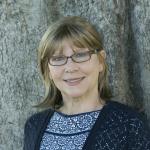 Lori Thiel is a Director of the League of Women Voters of California. Lori discovered the League about five years ago after she moved to San Diego and wanted to get involved in her new community. She was quite impressed by the League. At a San Diego League luncheon on higher education, Jeanne Brown gave her a membership card and she was hooked.
Lori is currently president of the San Diego League and with the support of her board has focused on updating internal systems for efficiency and increasing community outreach, collaboration and participation. LWV San Diego now has nearly 500 members.
Lori also serves on the boards of the Ackerman Foundation, which provides grants for K-12 education projects, and the St. James Health Ministry Outreach, which funds health services to San Diego's underserved communities. She has curated and hosted several women-owned business panel events, and has also owned and operated a Southern California publishing company. Prior to that, she was communications manager for the international steel consortium WorldSteel.