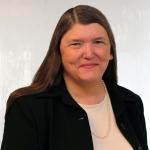 Tracey Edwards is a Director of the League of Women Voters of California.Tracey joined the League of Women Voters of Cupertino-Sunnyvale in 1998 but didn't become active until she joined the board in 2016 following her retirement. She currently serves as Vice President and County Council representative for her local League. Tracey works on affordable housing, pre-registration of high school students, and local development issues. She has also been appointed to two Santa Clara County Commissions; one on affordable housing and one on Women's leadership.

Tracey also serves as Chair of HealthRight Intl., and is Treasurer at both Tenderloin Neighborhood Development Corp. and Golden Gate University. Prior to retirement, Tracey was a senior leader at Deloitte. Over her 30+ year career at Deloitte she created, grew, and/or reinvented many different businesses. This included managing complex international business units, creation of new products and services, and leading business turnarounds. Tracey earned her B.A. in Biological Sciences from UC Santa Barbara and J.D. and LL.M. from Golden Gate University.
She is admitted to practice law in California. In their free time Tracey and her husband, Morgan, like to travel.