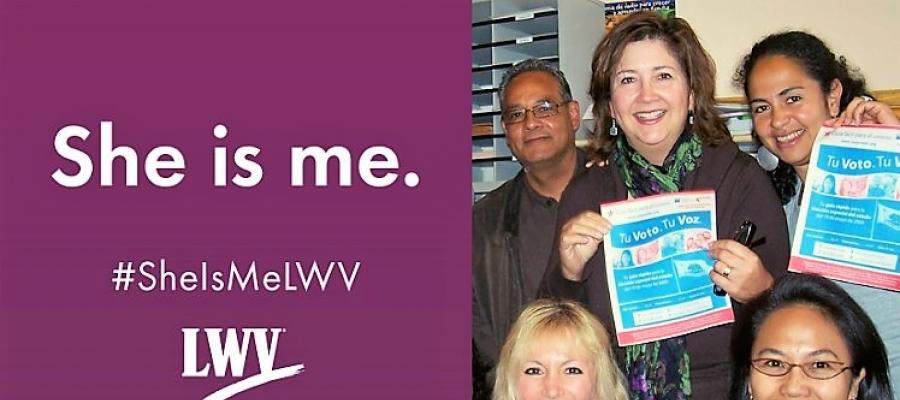 In 2020, we celebrate 100 years of League work through the inter-generational stories of our members as part of our She is Me campaign. We sat down with one of our long-time members to talk about powering the vote in Spanish-speaking communities. Meet Mony Flores-Bauer.
Emelina "Mony" Flores was born in Orange County, California, the daughter of immigrant parents from Chihuahua, Mexico. At a young age, Mony's family instilled in her the importance of responsibility and community. Her parents attended community college to learn English, become United States citizens, and have their three sons become naturalized citizens. Her family believed that interaction with the government meant to assimilate, to get an education and a secure job. Mony didn't grow up around a culture of voting, but she watched her parents and brothers build their lives as new American citizens, starting families and owning businesses while retaining their cultural values. After graduating high school with honors, Mony earned academic scholarships that took her to Rancho Santiago Community College and California State University, Fullerton.
Mony's career and marriage brought her to start a new life in the Bay Area in 1978. In the late '80s, a politically active friend asked Mony to join the League of Women Voters of Oakland. At the time, Mony was volunteering in local politics, but her true calling was reaching people who didn't understand the election process.
"I became really interested in the nonpartisan work of the League because I had enough of partisan politics," emphasized Mony. "The League was welcoming, inclusive and interested in reaching underrepresented people," she added.
During her 40 years as a member, Mony has held many roles, including LWV Oakland President, LWVC Voter Service Director, LWVCEF Spanish Translation Advisor, and member of the LWVUS Nominating Committee.
Also, Mony is the Spanish spokesperson for the LWVC and trains others to reach Spanish-speaking audiences in their own communities. Mony's collaborative work establishing voter education partnerships with Spanish-language media—including Univision-TV SF, Radio Bilingue, Hecho en California radio along with Mi Pueblo Foods—reached tens of millions of Californians in their native language, introducing many of them to the League for the first time.
Today, Mony uses herself as an example of someone who learned the importance of civic participation outside the home—an experience that makes her Spanish voter education workshops successful. Mony understands not everyone grew up with voting as a norm. "I am committed to do all I can to encourage civic participation using League resources," said Mony. "I know the challenges Spanish speakers face. The League has worked hard to build grassroots power, and now we are using that energy to power the vote among people new to the voting process."
Understanding the experiences and needs of new voters is crucial as the League moves into its second century. "Diversity has been an evolving and revealing path. Recent actions by our national, state and local Leagues to commit to principles of diversity, equity and inclusion are inspiring the next transformative chapter in our organization. Recognizing diversity, equity and inclusion as not only a policy but an active practice means we recognize the importance of promoting equitable environments and reducing barriers to participation," said Mony.
"Our volunteers, and their commitment to support the League's mission, are our greatest resource. Our mission to empower voters and defend democracy benefits everyone. Now we are fighting to power the vote among our citizens who feel left out of the civic arena and lack confidence in the democratic process. One hundred years from now the League's mission will stand."
Mony sees the League's essential role in the next 100 years as continuing to protect democracy. "Technology will change and the electorate will be more diverse, but engaging voters face-to-face will always be key to civic engagement," she said.
The League has been a cherished part of Mony's life, and she anticipates what is coming next. "For over 40 years, the League has opened the doors for many defining moments in my life," said Mony. "I've had the opportunity to represent the League across the country and in Mexico, Chile and Venezuela. I'm looking forward to working with the next generation of women powering the vote."
Mony works as an independent consultant and devotes her volunteer time to her local League in Oakland and to the LWVUS Nominating Committee. She enjoys travelling with her husband, Bruce and being a beloved Tia (Aunt).