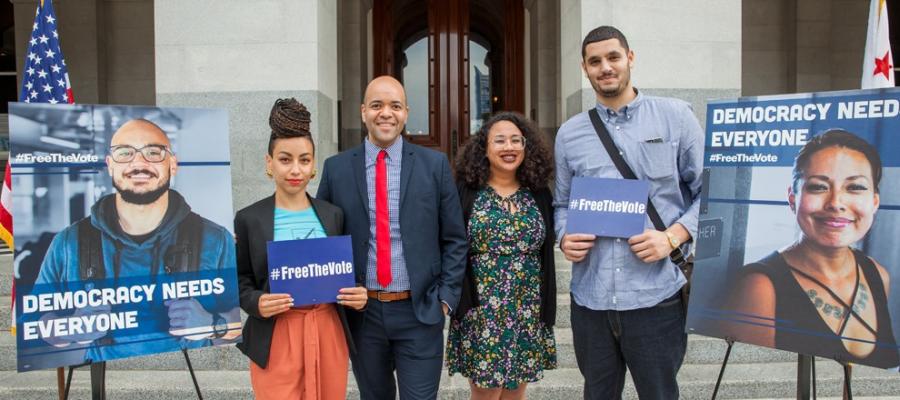 Want to help our Free the Vote Movement? Send a letter of support from your organization today!
What is the Free the Vote Movement?
Assembly Constitutional Amendment ACA 6 and AB 646, the "Free the Vote Act," would restore voting rights to every person on parole in California. This will require passing these bills to put voting rights on the 2020 ballot.
How many people would these bills impact?
Nearly 50,000 people on parole in California are working, paying taxes, and positively contributing to their communities, yet they are unable to vote at any level of government. This system operates as "taxation without representation," which is antithetical to the founding of this country.
Contrary to common belief, people on parole want to vote. A recent report by Initiate Justice, Democracy Needs Everyone: The Urgency of Ending Felony Disenfranchisement in California, showed that in a survey of over 1,000 people in prison and on parole in California:
Only 37% said they voted before they were incarcerated, but 98% said they would vote now if they could.
76% of people on parole, who are already reintegrating into their communities, said they believe voting would help them stay out of jail.
One of the top reasons why people in prison and on parole said they want to vote is to have a voice in society on issues like education and their elected leaders.
 
What are other states doing?
Notably, Florida restored voting rights to approximately 1.4 million formerly incarcerated people by passing Amendment 4 last November. Also in 2018, Louisiana restored voting rights to approximately 43,000 people and New York restored voting rights to approximately 35,000 people on parole. In 2017, Alabama re-enfranchised about 76,000 on parole, and the year before Virginia restored voting rights to 173,000 people released from prison.
The League of Women Voters of California has been fighting for voting rights for 100 years. We are co-sponsoring ACA 6 because the fight is not over. Mass incarceration disproportionately impacts black and brown Californians -- resulting in a less representative electorate. Extending suffrage to 50,000 Californians on parole, who are living and working in our communities right now, is a moral imperative, sound public policy, and essential to achieving an inclusive democracy.

It's time for California to join the growing movement to give people who are rebuilding their lives after finishing a prison sentence a voice in our collective democracy and to end a racist practice that locks people out of the polling place. It's time to free the vote for people on parole.

What can you do to support the Free the Vote Movement?
Tell your elected officials to vote YES on ACA 6 and join our coalition today: initiatejustice.org
These bills are sponsored by the Free the Vote Coalition, led by Initiate Justice, ACLU of Northern California, Anti-Recidivism Coalition All of Us or None, Californians United for a Responsible Budget (CURB), California Secretary of State Alex Padilla, League of Women Voters of California Legal Services for Prisoners with Children People over Profits-SD Vote Allies, and White People 4 Black Lives / SURJ Affiliate Los Angeles.