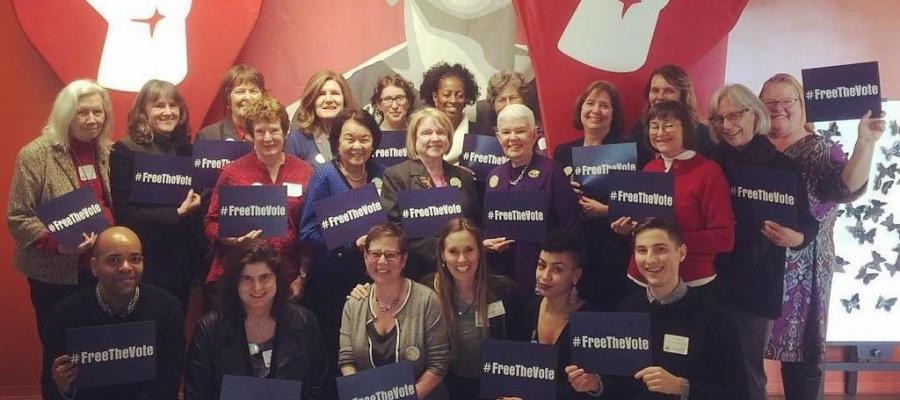 Our 2019 Legislative Wrap-Up
It's been quite a year at the California Capitol, with a new Governor, hard fought legislative battles, and sometimes overly-passionate advocates rallying for their causes. The League of Women Voters of California was out in force. We experienced notable wins, a few disappointments, and several cliffhangers - the outcomes of which won't be known until 2020. Below are highlights of the legislative year in our three issue areas - government, natural resources, and social policy. To view a full summary of our advocacy efforts, view our Bill Status Report for 2019-2020. 
GOVERNMENT
Our chief legislative mission is to empower people to have a voice in their civic life, ensure that local and state government is representative of California's diversity, and eradicate impediments to those goals. To those ends, the League co-sponsored four bills this cycle: Free the Vote, Assembly Constitutional Amendment 6 (McCarty); Election Day Registration, SB 72 (Umberg); the Fair Maps Act, AB 849 (Bonta); and the People's Map Act, SB 139 (Allen).
Free the Vote, ACA 6, is one of the legislative cliffhangers that stalled after moving through the first house. It's now a two-year bill for a constitutional amendment to restore voting rights to 50,000 Californians out on parole, who are living and working in our communities. Mass incarceration disproportionately impacts Black and Brown Californians and results in a less representative electorate. Freeing the vote is a moral imperative, sound public policy, and essential to achieving an inclusive democracy. Our goal is to get ACA 6 passed through the legislature and on the November 2020 ballot as an initiative for voters to decide. 
Successful passage of Election Day Registration, SB 72, means that it's never too late to register to vote in California. The new law allows same-day registration and voting, at every polling location, all the way through Election Day. Its purpose is to increase voter turnout, eliminate arbitrary deadlines that deny access at the peak of voter interest, and boost the registration of geographically-mobile Californians, those with lower-incomes, youth, and people of color.
The Fair Maps Act, AB 849, brings fair redistricting criteria to California's cities and counties. It prohibits partisan gerrymandering, standardizes criteria, and prioritizes intact neighborhoods and diverse communities. This new law represents an extension of the LWVUS' recently launched People Powered Fair Maps Campaign, a coordinated effort to reform redistricting across the country. The People's Map Act, SB 139, which was regrettably vetoed by Governor Newsom, would have required large counties to create independent redistricting commissions to draw district lines.
While they weren't among our co-sponsored bills, we provided high levels of support for AB 571 (Mullin) and SB 212 (Allen). Our success on AB 571 will curtail the influence of money in politics by placing a default limit on local candidate contributions, while also allowing each jurisdiction to set its own limits. SB 212 would have given every local government the option to use new voting methods, like ranked-choice, to ensure more inclusive majority-winner elections. Unfortunately, Governor Newsom vetoed the legislation, expressing concerns about voter confusion.
NATURAL RESOURCES
Heat records are breaking, glaciers are melting, and the seas are rising. Protecting natural resources and mitigating against climate change are critical League priorities. As a coastal state, many of our communities are threatened by rising sea levels. The successful passage of AB 65 (Petrie-Norris) will prioritize projects that use natural infrastructure, an important tool to protect coastal communities from the impacts of climate change.
A robust network of stream gages, mandated by SB 19 (Dodd), will help us learn more about the timing and volume of flow, thereby allowing for more effective water resource management and preparation for both droughts and floods. Despite a hard fight by advocates, Governor Newsom vetoed SB 1 (Atkins). Faced with threats from the current federal administration, the legislation would have ensured continued legal protections for the state's environment, natural resources, public health, and workers' health and safety. Next year we will continue our work to pass SB 54 (Allen) and AB 1080 (Gonzalez), companion bills aimed at reducing single-use plastic waste in landfills and oceans.
SOCIAL POLICY
The League successfully advocated for a plethora of bills focused on criminal justice, housing, and education. All share a common purpose to promote diversity, equity, and inclusion.
Criminal Justice

League members testified, wrote letters, and lobbied hard to pass the California Act to Save Lives, AB 392 (Weber).  This new law requires law enforcement to use deadly force only when necessary to defend against the threat of death or serious injury. We believe that strengthening the standard will reduce police violence, rebuild the community trust, and bring state policies on the use of force into compliance with recent court decisions and national best practices.
Incarcerated people are at high risk for medical problems due to conditions of confinement like crowding, malnutrition, stress, and trauma. They often face the Hobbesian choice between either suffering or incurring crippling medical debt. The passage of AB 45 (Stone) addresses the issue by eliminating burdensome medical copays and equipment charges for people in county jails.
 
Housing & Homelessness
The League supported several bills aimed at California's housing crisis. The Tenant Protection Act of 2019, AB 1482 (Chiu), increases equal opportunity to decent, stable, and affordable housing. It keeps families in their homes by limiting extreme or unreasonable rent increases and protects against discriminatory and retaliatory evictions.
Accessory dwelling units (AKA in-law units or backyard cottages) are a key piece of the puzzle to relieve California's housing crisis. We supported AB 68 (Ting), which eases barriers to building these low-cost, energy efficient, affordable homes.
The Housing Opportunities Act, SB 329 (Mitchell), prohibits housing discrimination based on specified personal characteristics, including source of income. The legislation will protect prospective tenants from being turned away solely because they want to use housing vouchers - a practice that disproportionately impacts communities of color.
Education
Charter school governing boards will observe the same open meeting, conflict-of-interest, and disclosure laws as traditional public schools thanks to the passage of SB 126 (Leyva) -
a huge victory for transparency and accountability. The League advocated for a more equitable school-facilities funding formula in AB 48 (O'Donnell). This four-year school bond bill passed the legislature with significant last-minute amendments and is slated for the March 2020 ballot. While there was some progress toward addressing differences in property wealth between districts, we will continue to work in coalition with other advocates to achieve more equity in future bond measures.
Want to stay informed on the issues you care about?
Want to do more to support us?