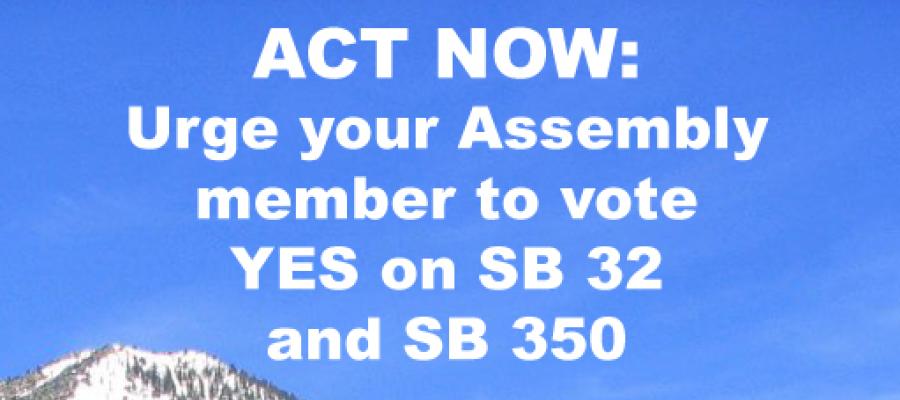 Urge your Assembly member to vote YES on SB 32 and SB 350!
Please help us make sure that the legislature passes two crucial climate change bills!
Urge your state Assembly member to vote YES on SB 32 and SB 350.
SB 32 (Pavley) and SB 350 (de León and Leno) will be voted on by the full Assembly soon. It's time to urge your Assembly member to vote YES on these critically important bills.
The oil industry is pushing hard to block this breakthrough legislation, spending millions on advertising and lobbying hard to oppose the passage of these bills. We must counter their efforts and ensure that California remains a leader in addressing climate change. Please send that message to your Assembly representative!
SB 32 will set an enforceable limit on climate pollution that continues the reductions required by California's landmark AB 32 of 2006. It will require a greenhouse gas (GHG) emission level of 80 percent below the 1990 level by 2050.
SB 350 will set three goals for 2030 that cut GHG emissions: 50 percent of our electricity from renewable energy sources, 50 percent reduction in oil use in the transportation sector, and a doubling of energy efficiency in buildings.
The impact of climate change is becoming ever more apparent; please take action on this critical issue facing our planet.
Read more about climate change action.
Thank you for helping advance the cause of reducing climate pollution. Want to do more?
1. Share this action alert via Facebook and Twitter.
2. Forward this email to your friends. 
3. Donate to the League and help us continue our advocacy efforts.